Creating Career Paths For Young Workers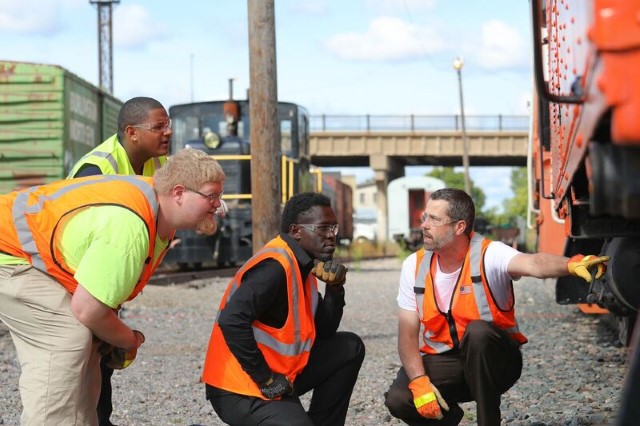 A full residency Job Corps program not only helps young people from disadvantaged background complete their high school education, it trains them for their choice of 73 different career paths.Enter TCU/IAM Transportation Advanced Training, where young adults develop the skills needed to get a job in the transportation field. Nine training centers participate in the unique program run by TCU/IAM members.A full residency Job Corps program not only helps young people from disadvantaged background complete their high school education, it trains them for their choice of 73 different career paths.
The Minneapolis facility is a melting pot of students from across the country. Students enrolled in the transportation program typically spend six to nine months at the campus.
"For some of these kids, it's their last chance to get it right," said Jason Dreis, the programs lead field educational representative.
Students receive training in safety, employability, mathematics and business communications, as well as transportation-specific courses, depending on the type of position they are interested in.
To be eligible for the advanced program, participants must complete a Job Corps basic trad3e program and have a high school diploma or GED.
"We get students out of all different trades and locations who want to enroll in our program," said Dreis. "Our two specialties are the airlines and freight. This is where the IAM has really helped out because of their presence in the airline industry."
The Job Corps program has been a success for many participants.
"We have students in just about every level of the transportation industry," said Dreis. "Many of our students leave here with good paying union jobs, an opportunity they probably wouldn't have gotten if not for the program."
A class on the importance of a union is part of the dcurriculum because even students who will work at a non-union job could soon find themselves in the middle of an organizing campaign.
The program's partnership with the Minnesota Transportation Museum allows students to utilize equipment at the museum during their training.
"Students are able to receive hands-on training and have the opportunity to see and do things they would only be able to experience working on the railroad," said Dreis.
The museum is run completely by volunteers. Many have retired from transportation industry jobs and want to help train transportation workers of the future.
A locomotive allows students to learn the responsibilities of an engineer—how to properly signal the train operator, couple and uncouple cars and all the safety aspects of working on the railroad. All these skills make them appealing to future employers.
In return for the learning opportunities at the railroad museum, students reciprocate by volunteering their time working at the roundhouse. Students paint, do general housekeeping and repair equipment.
Students are now working on a special project to restore a rusted sleeping car. It will soon be a fully functioning first-class food service car for use on the Osceola, WI dinner train.
"We have a lot of employers reach out to us after hiring a Job Corps student asking us to send two more students just like the last one," said Dreis.
Future employers know they will get an employee they can count on. The program features extensive safety training. Students must pass a drug test to enter the program and are subject to random testing to make sure they will meet the standards set by the transportation job market.
"The program here is over 40 years old," said Dreis. "So you now have Job Corps graduates from 25 to 30 years ago who are now the hiring managers calling us up from all around the country looking to hire graduates of our program."
The program is run like a real workplace. There are time cards to punch in and out every day. About half the material is individually paced, with instructors around to help if a student is struggling.
Students are encouraged to take leadership positions in student government and as dorm and team leaders. They leave the program with a clear understanding of what transportation companies are looking for in prospective employees.
"We really focus on job placement for the students," said Dreis. "Our main focus is to get the right student into the right job, that way it's a win-win situation with our employer partners. They make a big difference in this program."
Students can stay in the program for up to 60 days after finding employment, just in case the new job isn't the right fit.
"We are constantly adding to our curriculum and updating it to fit the needs of the employer partners," said Dreis.
This article originally appeared in the Winter 2017-2018 IAM Journal.